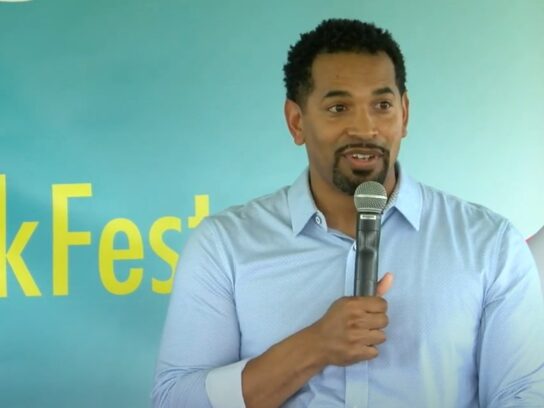 County Councilmember Will Jawando co-hosted a movie screening of "On These Grounds" at the Silver Spring Civic Center.
"A video goes viral, showing a white police officer in South Carolina pull a Black teenager from her school desk and throw her across the floor. Healer-Activist Vivian Anderson uproots her life in New York City to move to South Carolina to support the girl and dismantle the system behind the assault at Spring Valley," the film synopsis reads.
Jawando held a discussion with students, the county's Chief of Teaching, Learning and Schools, Ruschelle Rueben, and the Executive Director of Restorative Justice Partnership, Dwanna Nicole, about policing in schools after the screening.
The event was cohost by local activist groups: the Silver Spring Justice Coalition, Racial Justice NOW!, the Muslim Voices Coalition, and MoCo Against Brutality.
The movie screening of On These Grounds, a powerful documentary about the harm of police in schools. This event will be hosted by Councilmember Will Jawando, an outspoken legislative champion of Police Free Schools, and will include a moderated panel about policing in schools following the documentary screening.
One of our youth members of Brotherly Love is pictured below, attending the screening of On These Grounds. He attends Springbrook High School and agrees that police doesn't belong in schools. He appreciates the new social worker at his school. Thanks for hosting Councilman Jawando, and for being outspoken legislative champion of Police Free Schools!
Tell us how can we improve this post?